I am so excited and honored to be co-hosting this meme today. I have never done this before so I am super excited about it. Hope everyone will link up and have a blast doing this. I know I will.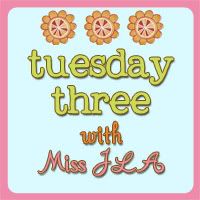 That's right, It's that time again! I'm not giving up on all my followers. One day you will definitely join the CrAzY, rAdicAl, Over the TOP fun with me! Until then, I'm not bothered my your non-participation!
I have two great woman co-hosting with me in this weekend Tuesday Three.
Karen's Journal
&
♥[6.10.2011]♥. I love both of these blogs so much. If you do decided you wanna have CrAzY, rAdicAl, Over the TOP fun with me, I ask you show these awesome ladies love!
Thank You Karen & Caitlin for ALL your support!
My Rules:
Say YES to
CrAzY, rAdicAl, Over the Top Fun
& join along
Post your Answers/Ideas/Suggestions/Stories/Pictures
Link Up
Follow Me & my two Co-Host
LAST WEEK: we shared our PET PEEVES around the house. I enjoyed reading every ones. I found out I don't stand out when it comes to being Anal! Think the TOP pet peeve was
Toys [other objects] on the floor!
THIS WEEK:
Share three things, that put a smile on your face & that make you happy. It CAN NOT be people. I'm trying to get to know everyone, and I know your Hubby, your better half, and your children make you MOST happiest.

Get CREATIVE!!!!
Link Up!!!!
THREE THINGS THAT PUT A SMILE ON MY FACE
1. Eating raw pie dough and raw chocolate chip cookie dough. In that order.
2. American Girl Dolls and their movies. I have 6 dolls and all the movies they have out. Molly
is my favorite movie.
3. A clean and orderly home. Did I mention that I HATE clutter?(see last weeks Tuesday 3)