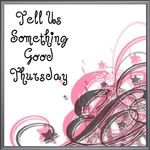 While looking at blog updates I found this great meme to play. I like it because it is positive. We could all use more of that.
My mom and my niece Mackenzie came to spend a few days with us. Also, we went and had lunch with my son Daniel. It was so good to see him.
Tomorrow we are going to walk across the Golden Gate Bridge.