There are so many things to always be thankful for each day. It is hard to limited it to just a few. I always have the obvious ones in my heart at all times. God, family, friends, blogging.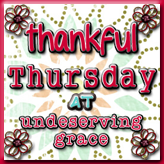 1. I am thankful this week that Daniel was able to come and stay at our house for the weekend. It was nice having him here.
2. I am thankful that after Tom and I took Daniel home, we went out to lunch and then to Cold Stone for ice cream. It was sooooo good.
3. I am thankful that our neighbors invited us over for a BBQ on Monday night. It was yummy.
4. I am so thankful that I only have 5 days left of teaching school and then I get off for a while.
5. My good friend, Joyce, who I used to work with called. It was so good to talk to her. She is very nice.
6. I am thankful that I found the "block" button on my email. Now I won't get so much junk mail. Don't worry, I won't block any of you.